Sinclair Mineral & Chemical carries and represents a full line of aqueous parts washing equipment for all surface preparation needs. Our engineered solutions are manufactured in both Carbon Steel and Stainless Steel with 100% quality components and craftsmanship. See more of our equipment offering below: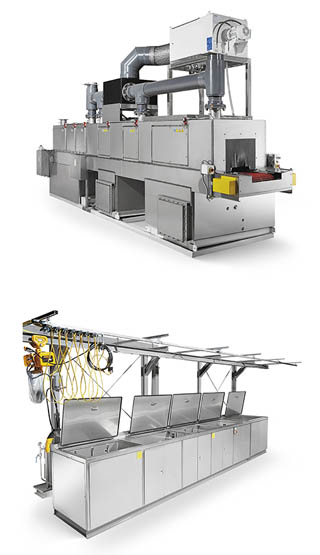 EQUIPMENT CAPABILITIES:
Spray Wash Cabinets
Belt Conveyorized Systems
Immersion Systems
Ultrasonic Systems; both Piezoelectric and Magnetostrictive
Filtration Systems
Pre-Assembled and Custom Spray Booths
Automated Wash Systems
Custom Machine Capabilities
On occasion, we offer used equipment and trade-ins; please call to check our inventory
Your requirements may be unique depending upon your application, so please contact us to discuss your needs as we are happy to help.
Thank you for taking the time to visit our website. Our experienced and friendly team is ready to answer your questions today. For more information about our products and services, please feel to give us a call or send us a message below. We are committed to responding within 24 hours.